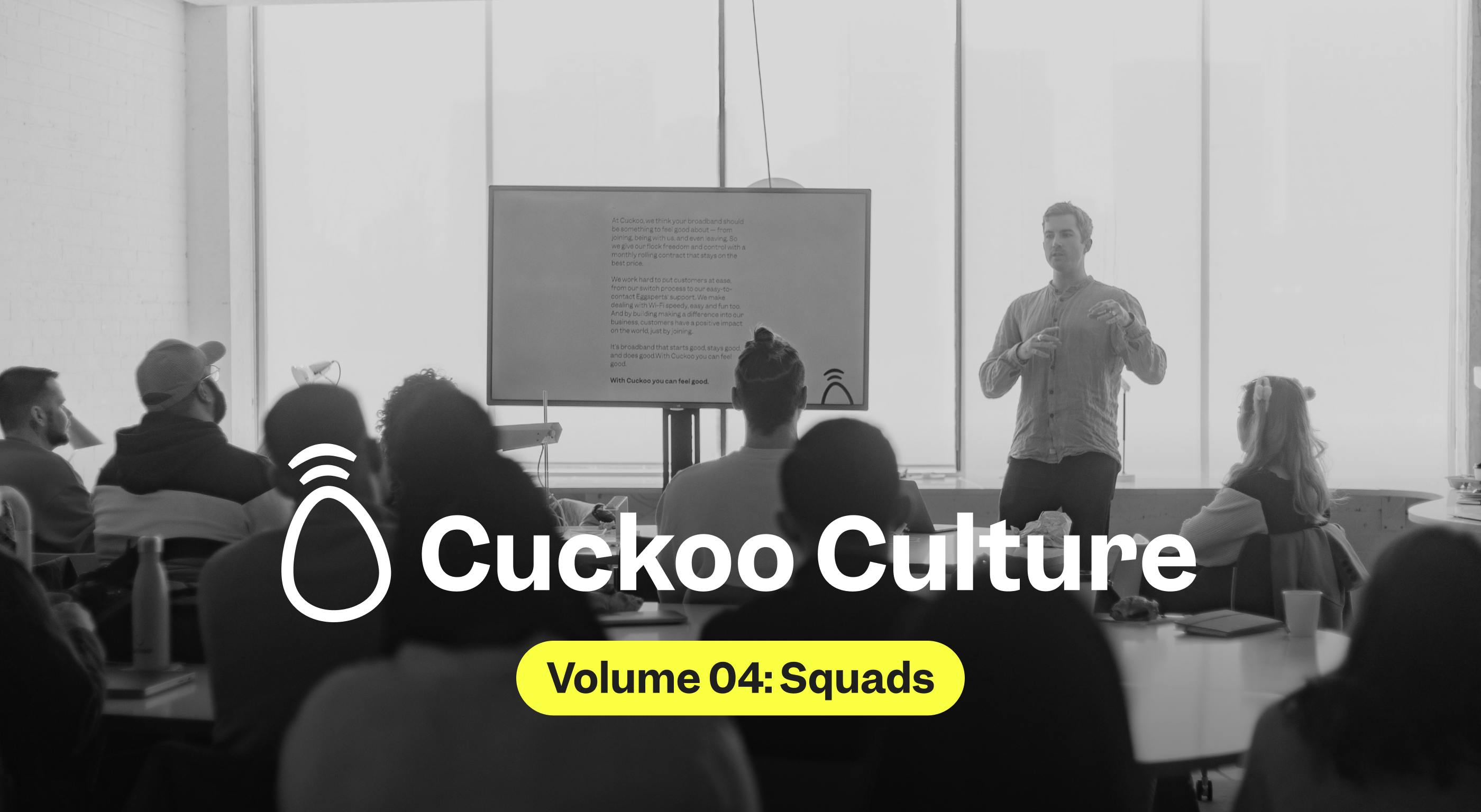 Cuckoo Culture Vol IV: Introducing Cuckoo Squads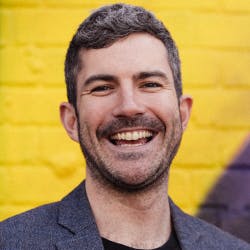 Tommy Toner | VP of Product & Co-Founder
From this week, we've changed how we work together at Cuckoo. We've launched three squads, replacing the existing, single product team.
I'll be talking about how we worked together to build Cuckoo from inception to launch, how we introduced and then ditched Google's OKR framework and how we've set up the company today for future success with the introduction of our new Squad model.
Why are we changing?
🪐 To give teams more ownership of their own destiny
We want everyone to be engaged with the long-term success of Cuckoo. By letting teams shape their own goals and their own work in pursuit of ambitious objectives we expect Cuckoo to do better in the long term and teams to have more fun getting there. The only people who really know where the skeletons in the closet are and prepare us for scale are those on the front lines.
👁 To create focus & clarity
In the old structure, all our designers, developers and product people form one large team but may be working on a variety of different initiatives with little cross-over.
We think we can help our teams and Cuckoo succeed better by launching smaller teams with a shared purpose, a clear mandate and the autonomy to make their own choices.
🤝 To create closer connections across team lines
Previously, the Product team could work with anyone across any team, depending on the initiative, but had few stable, ongoing partnerships. Business is just a bunch of people working together and mission command only works if you have mutual trust and that can only be built up through a consistent working pattern between people. More on this in Cuckoo Culture Vol III: CIA & Military.
By narrowing the scope of collaborators we hope to deepen the connections across our teams whilst ensuring people know exactly how they can best contribute.
A little bit of background
Since we launched in 2020 we've shipped a helluva lot of new products and features. Some have been industry firsts, some have won us awards and some have simply been essential parts of building a broadband company.
As the new challenger we've had to move quickly in order to make inroads in an old and established market. Speaking truthfully, this has sometimes come at a cost; shipping products we know could have been built a bit better or with more features. Time is of the essence and we don't have much of it!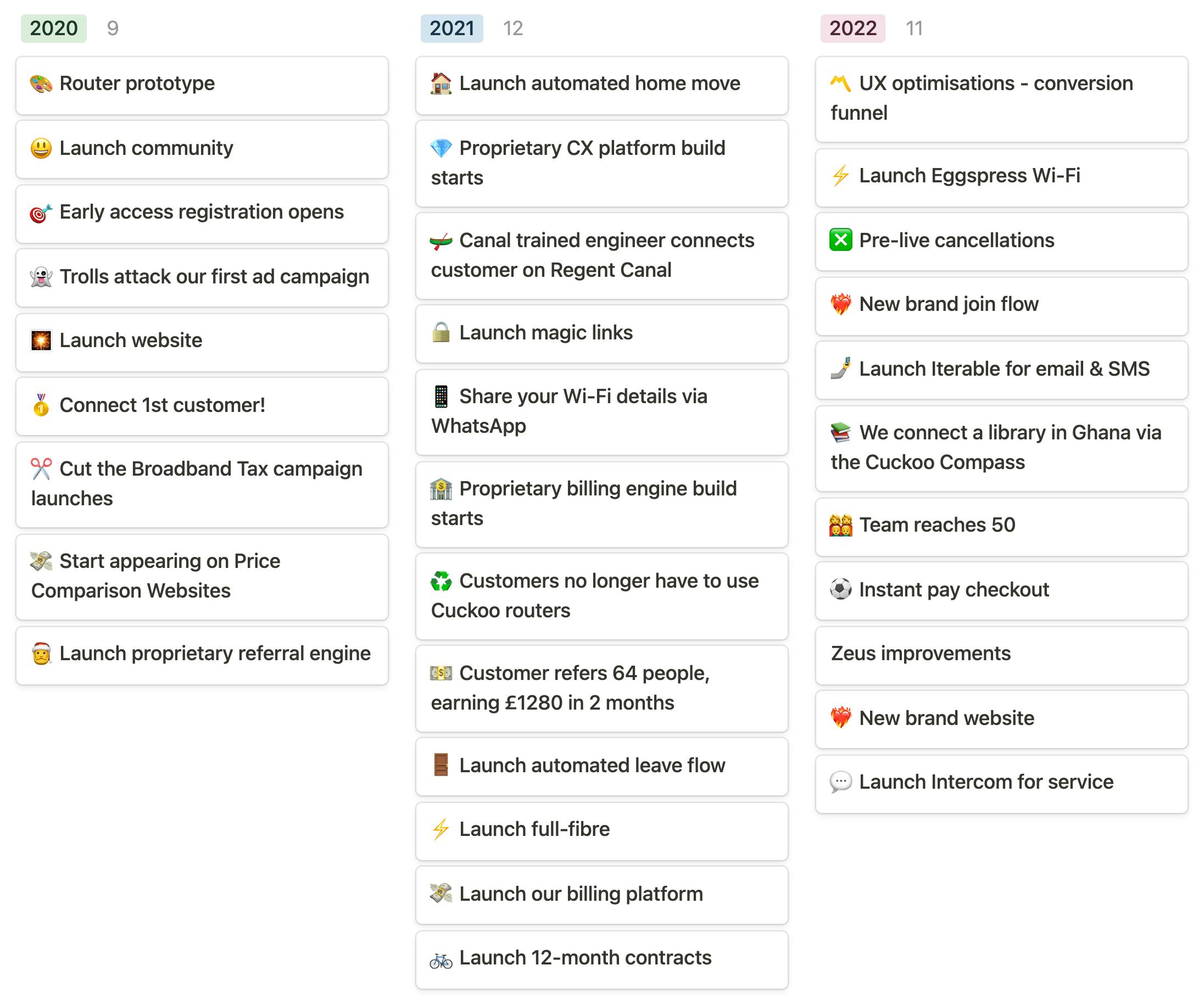 For a while, the product team was just Dan and I. Dan wrote the code and I designed the features. Along with Alex, the three of us built a broadband company that could switch customers in four months – making decisions and shipping code quickly. It was at this time we began to build out our tech team and wanted to retain this autonomy, speed and efficiency with the growing team.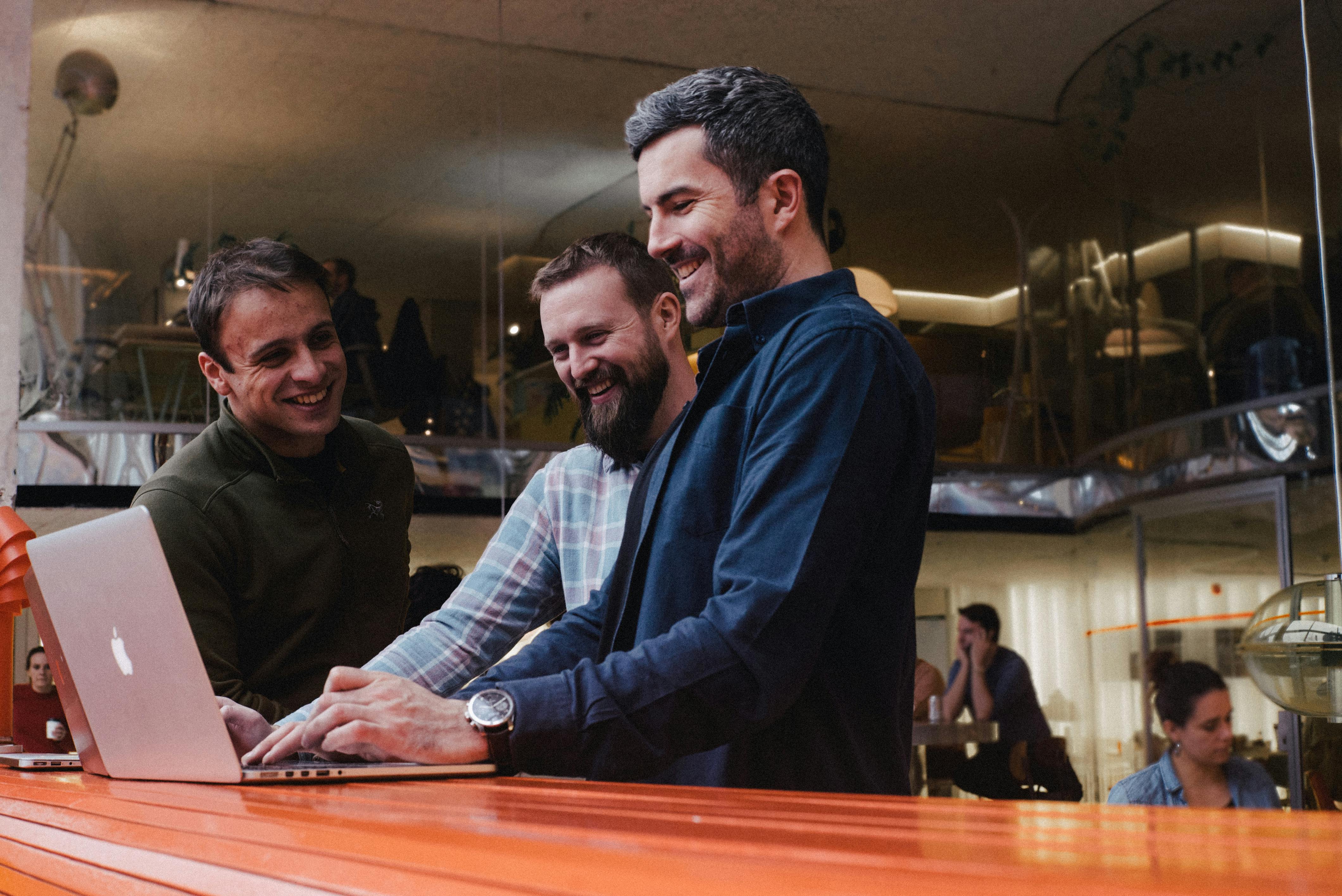 Until last week we worked in two-week sprints with all the usual suspects: a roadmap review with the PM, Principal Devs + Cuckoo leads. A planning session with the whole product team at the start of each Sprint. We'd then have a Sprint Demo and Retro at the end of each sprint. We've always had Scrum (the Agile project management framework), its methods, and terminology optional. And Agile being our go-to set of values and principles. We nick the best ideas from companies that have been on our path before (never just blindly importing a framework wholesale).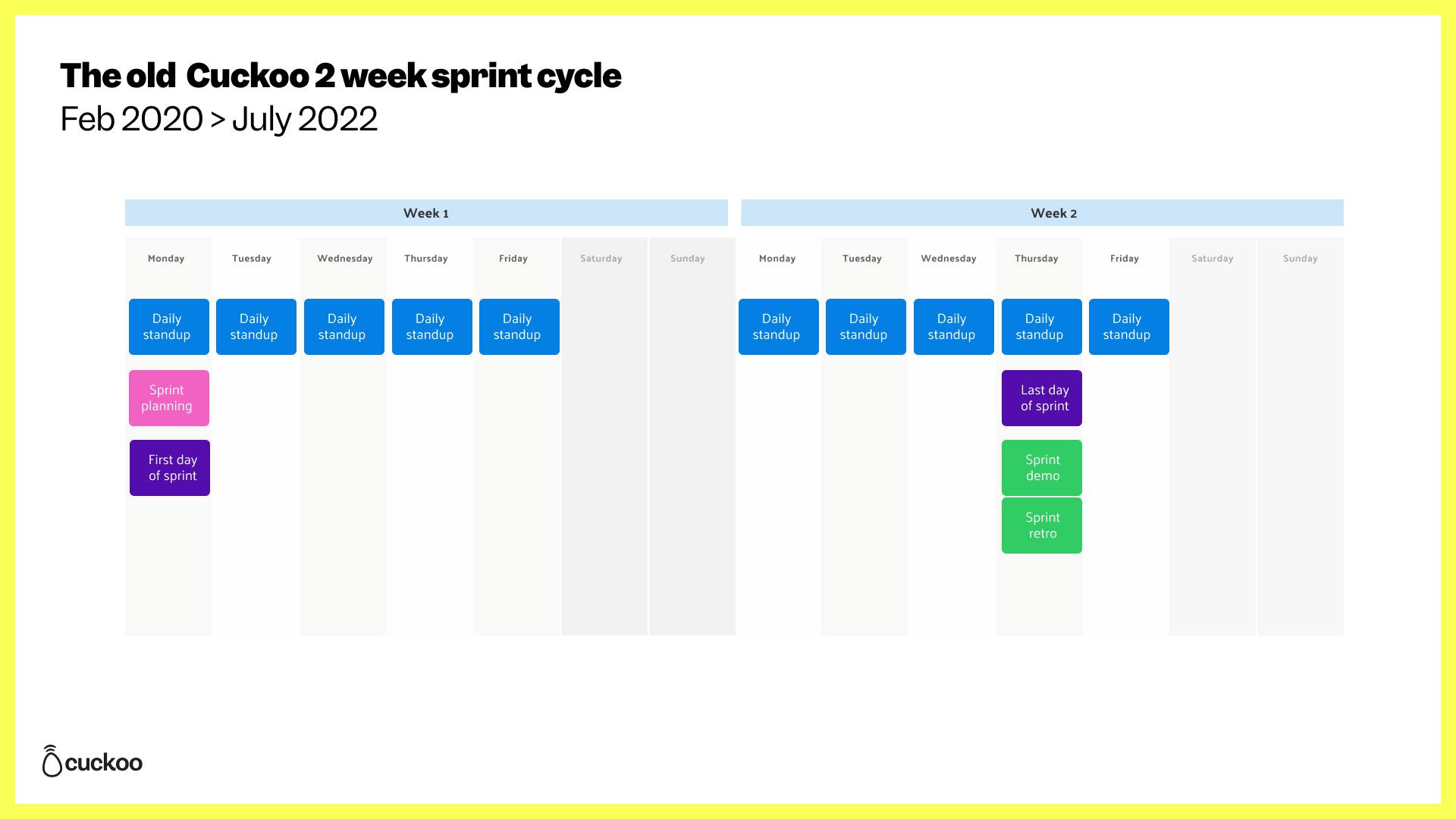 In order to align us behind a strategy, we introduced the Google OKR framework in Q2 2021. Using it in its purest form; we set specific quarterly objectives & key results for the company and each team (Tech, UXD, Growth, Service and even People). The idea was that the team's OKR always laddered up to the company's OKRs.
In all honesty — it never really worked for us. With OKRs shifting every quarter, the teams felt pulled from pillar to post. The connection between Company Objective <-> Key Result never landed properly. Usually the objective was too vague and didn't relate much to teams. The other thing was how each unit of the business would come up with their own OKRs, but inevitably to implement them they'd require time from the development team. In turn, this meant it was hard to know what was the priority: the tech team's OKRs vs another team's OKRs. Lack of data didn't help - key results work well when we can define, instrument and track specific inputs well. We didn't really have this in place. Lastly, there was time . We would spend the end of Q1 thinking about Q2, one week to set company ones, one week to set team ones, and then feedback up the chain of control. Altogether that's 3-4 weeks to set goals for the quarter! After a few quarterly cycles, we ditched OKRs completely.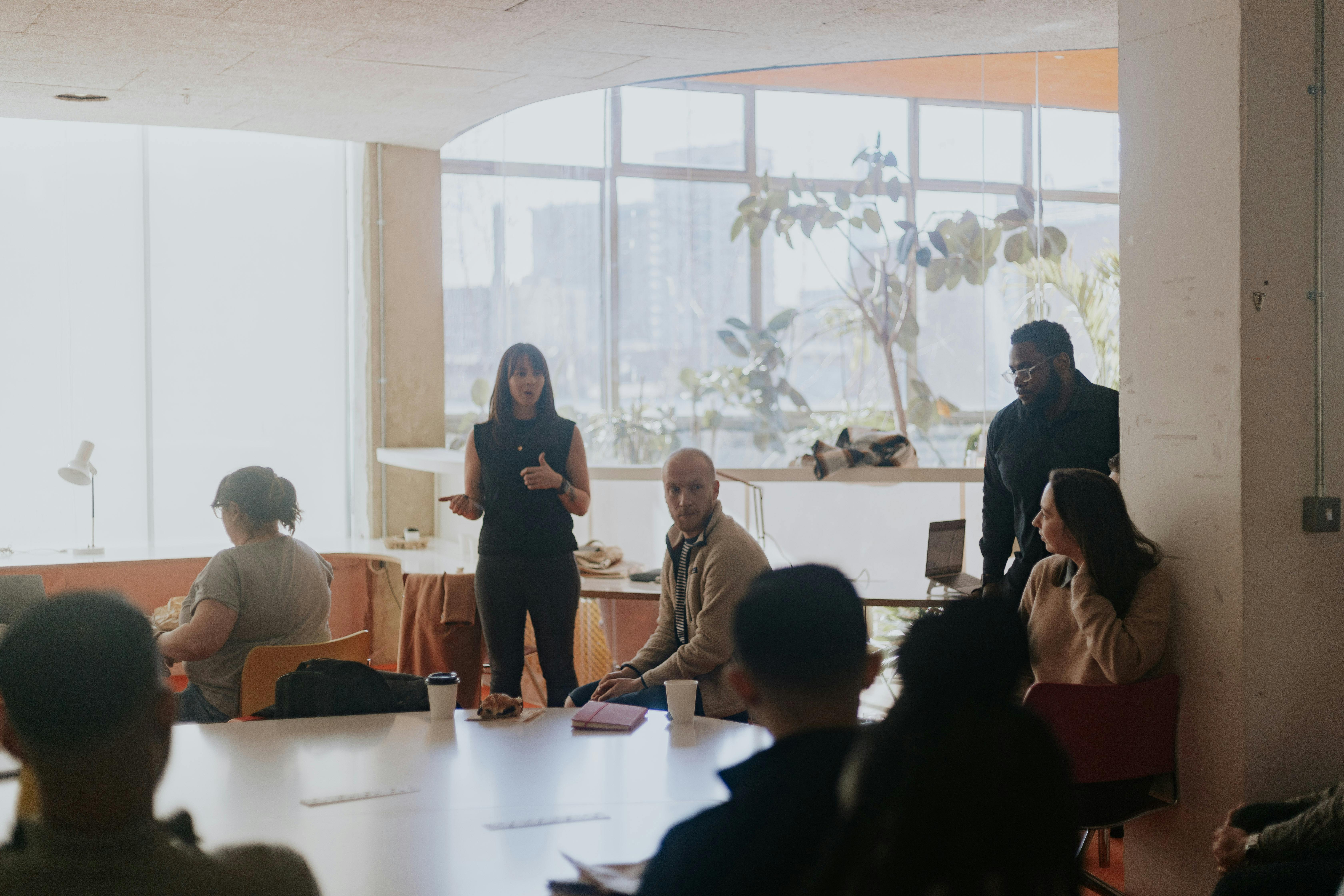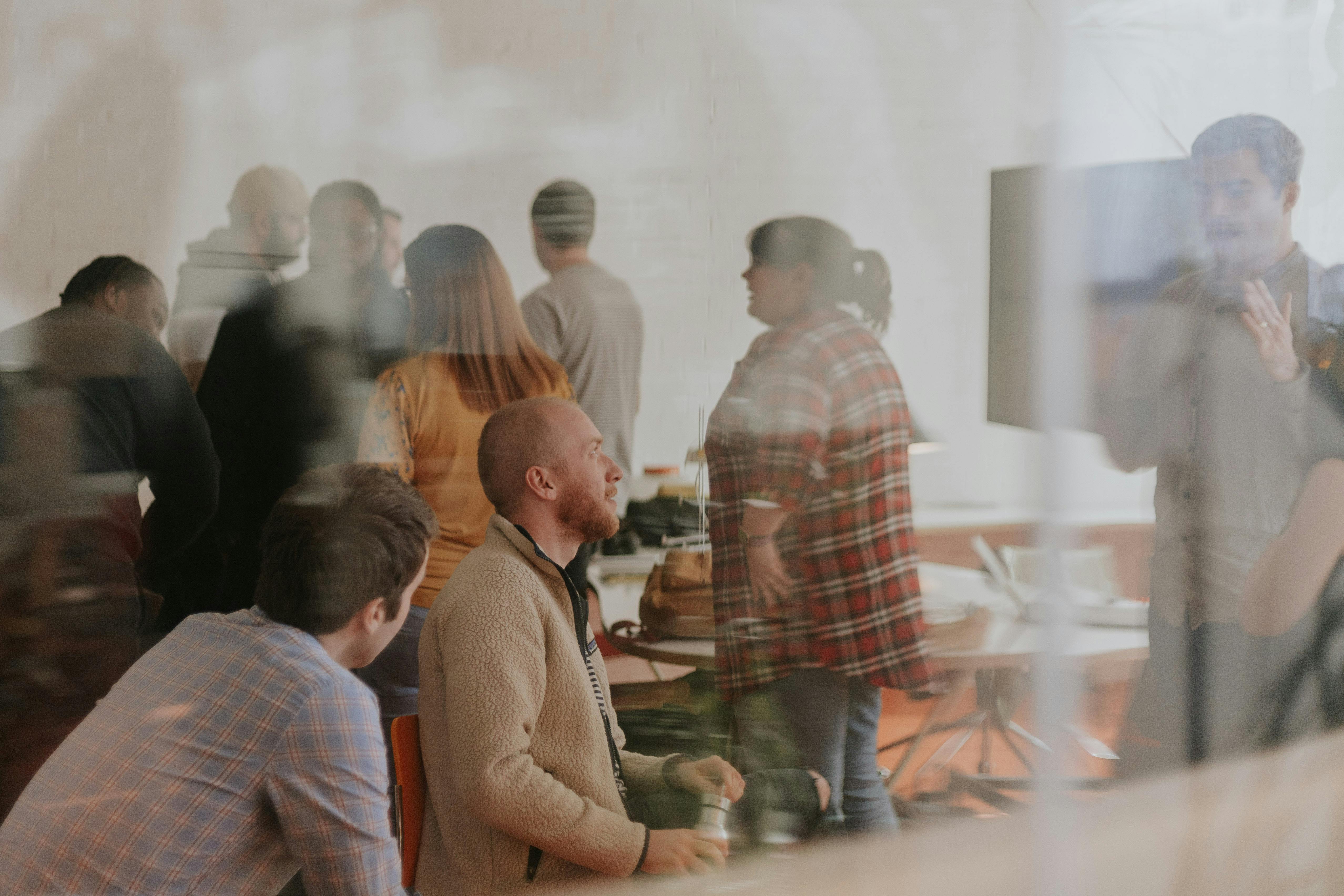 We're organised to bust silos
Traditionally ISPs have distinct and separate functions e.g. network, consumer ISP (marketing and customer service) and then technology & product. These invisible silos turn into thick, solid silos very very fast. They make it more difficult to align around a strategy, make decisions quickly and create a truly seamless customer & brand experience. Since day one at Cuckoo we've fought hard to keep our Broadband Eggsperts (service) as close to the rest of the business as possible. Same goes for the rest of our teams such as Finance & People; you build a brilliant business by every area in the business being brilliant – and integrated.
Rather than treat Service as a separate entity we celebrate it as a core pillar of the business. Instead of seeing our service team as a necessary, but non-profitable, part of our business – we see our service team as a value driver increasing customer retention, loyalty and brand advocacy. People are willing to pay more for higher quality service.
Broadband Eggsperts are an integral part of our product. In fact, they ARE our product. The voice on the phone is as much, if not more so, our product than a shiny button on a website. But they're also an important part of our product delivery; from design reviews to the QA process to product roadmap prioritisation. The people talking to our customers each and every day know best.
In some organisations brand sits within marketing. At Cuckoo it sits under Product, but straddles marketing. Ultimately we're a service provider and brand & the user experience are two sides of the same coin.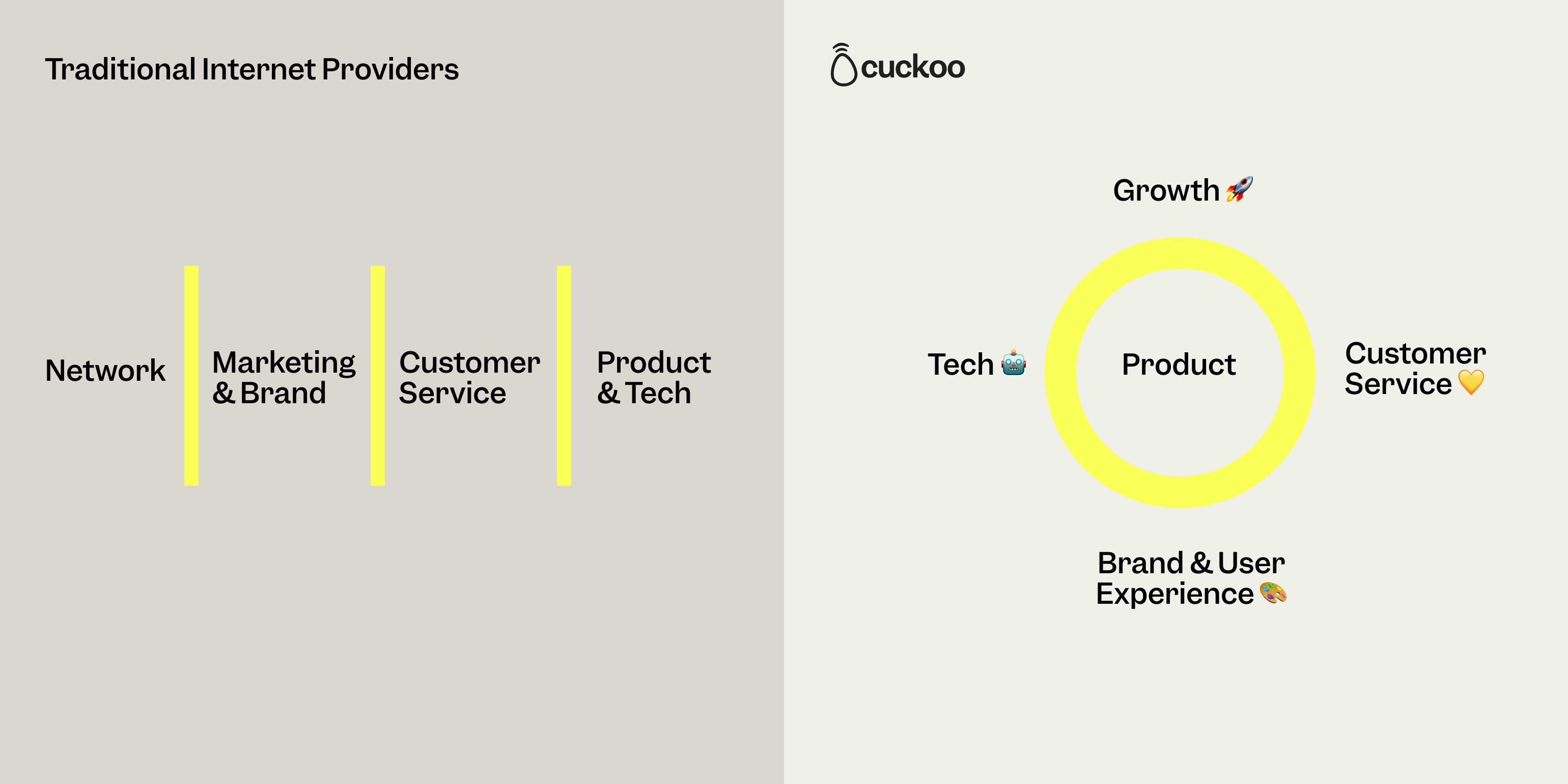 We're setting up mission-driven cross-functional teams
Our company mission is to become the largest and most loved UK broadband provider*. So it makes logical sense to have dedicated teams focused on those goals. The 'largest' is the Growth squad and the 'most loved' is the CX squad. The Platform squad is the enabler for those squads.
Squads are cross-functional, autonomous teams, made up of typically 6-8 people (loosely based on the Spotify model). They're made up of a Product Manager, a Product Designer, a Principal Developer, Developers and team-specific stakeholders (e.g. marketing or service folk) that focus on one distinct way to support our Company Mission e.g. "Grow our customer base" or "Improve our Customer Experience".
We empower individual Squads (Growth, CX & Platform) to set their own objectives at their own cadence (this replaces the centrally set OKRs at the start of each quarter). Squads will prioritise what to work on based on our mission, business goals, metrics and their sense of what needs to be done. The Senior Leadership Team & management is then there to deconflict/highlight areas where there can be synergy or guardrails of focus.
Initiatives are what squads work on and build. Initiatives will typically have a primary stakeholder that is a subject matter expert from a team such as marketing or service. If a squad has a conflicting initiative e.g. a feature that massively boosts growth but could negatively impact CX, that's where the Cuckoo Leadership come in (although generally, we trust individual team members to identify and deconflict this).
* Largest four ISPs today: BT 9.3m, Sky 6.7m, Virgin 5.6m, 4.2m ** Most loved defined as post-live NPS of 70+ and Trustpilot score of 4.6+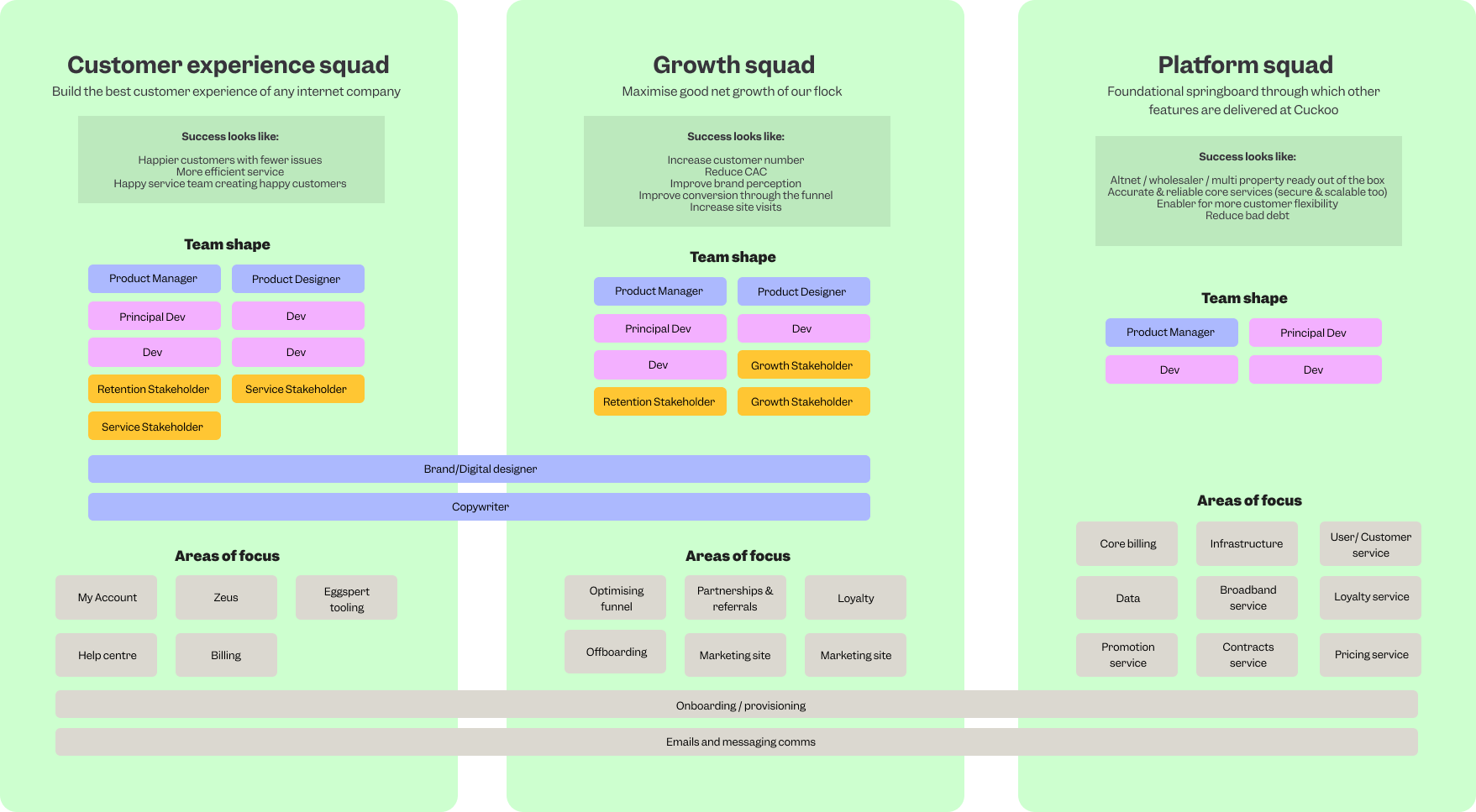 We're experimenting with how we work
We've taken the best bits of Basecamp's Shape Up framework, the Spotify Squad model and other Agile methodologies to allow us to move more efficiently without compromising on quality.
The granular detail is left for each Squad to decide. Here's how the Growth Squad run things:
Sprints last six weeks.

Long enough to build something meaningful and a set deadline that enables the Squad to use their time efficiently.

Planning happens upfront in weeks five & six of the previous sprint

. We call this Shaping. By week five, stakeholders (i.e. growth + product) should have defined their ideas/requirements/hypotheses for the next sprint 

prior

 to the shaping session. Shaping is where the stakeholders plan what we might pick up and the Product Manager & Lead Dev ensure we have all requirements needed to progress each initiative.

Weeks 1-5 are where design, build, test, release, and iterate happens.

By end of week five, everything should be out in the wild.

Each week

we have a weekly wakeup where we talk through the week ahead. On Tuesday is a company All Hands, then we have daily standups Wednesday through Friday.

Week six

will typically include blog writing, public change log, reducing tech debt, adding any final layers of finesse or craft to the features, documentation and bug fixing. It may include initial architecture discussions and high-level concepting for the sprint ahead. Week six is also when we will run a betting session where we "bet" on what we will deliver in the next six-week sprint as well as a Sprint retro.
Presenting progress looks like:
Kanban board on Notion

Designs will still be shared at 30%, 60%, 90% with squad

Development will still be shared via test links on Slack

Demos will be more adhoc as things are done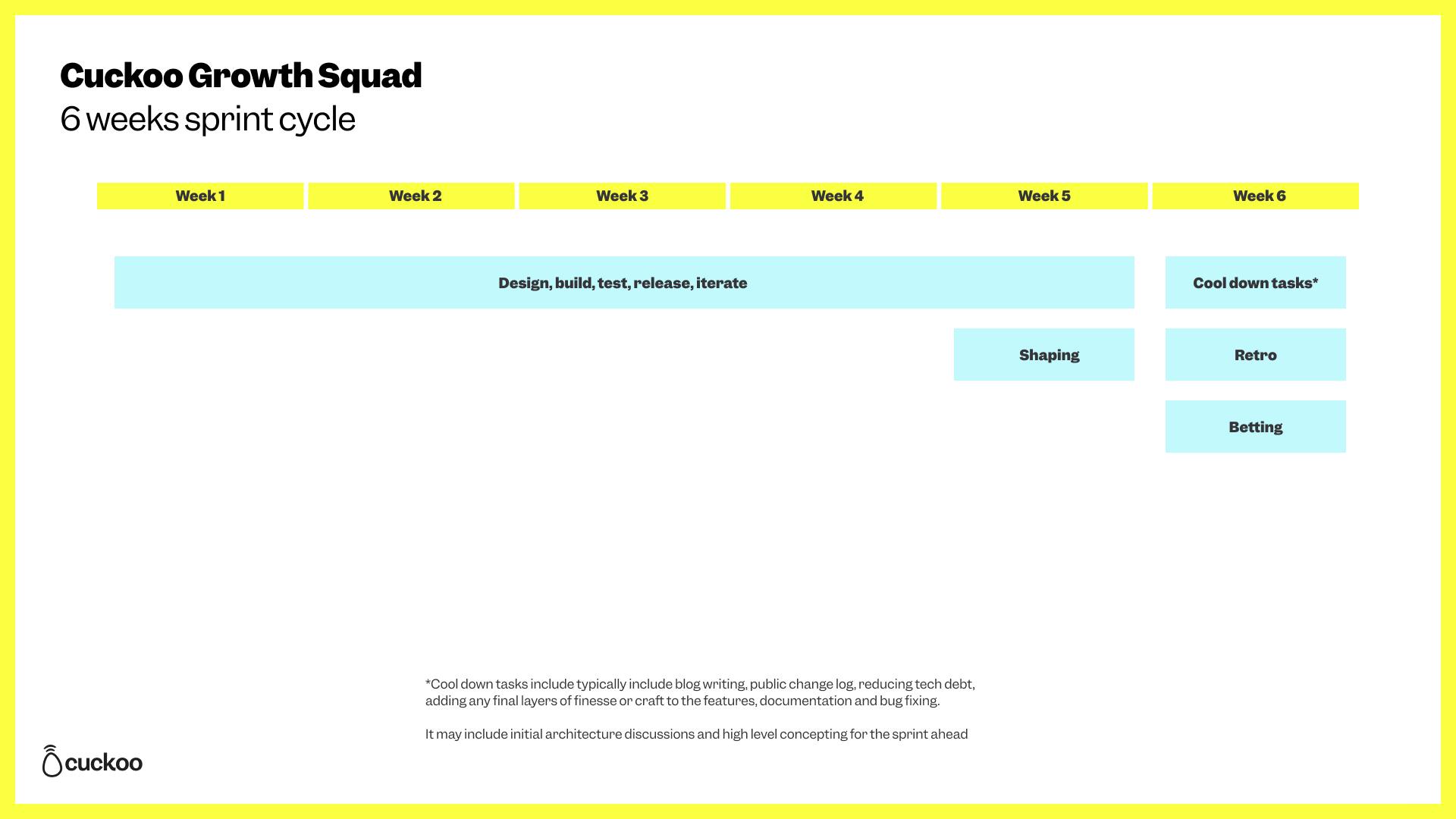 And there we have it!
We'll be reviewing how the first few sprints go in the Squad retros (on week 6 😉). We'll test and adjust as we go. But right now, we're feeling pretty excited and energised by this new model.
Meet our squads! Like what we do? Why not come join us?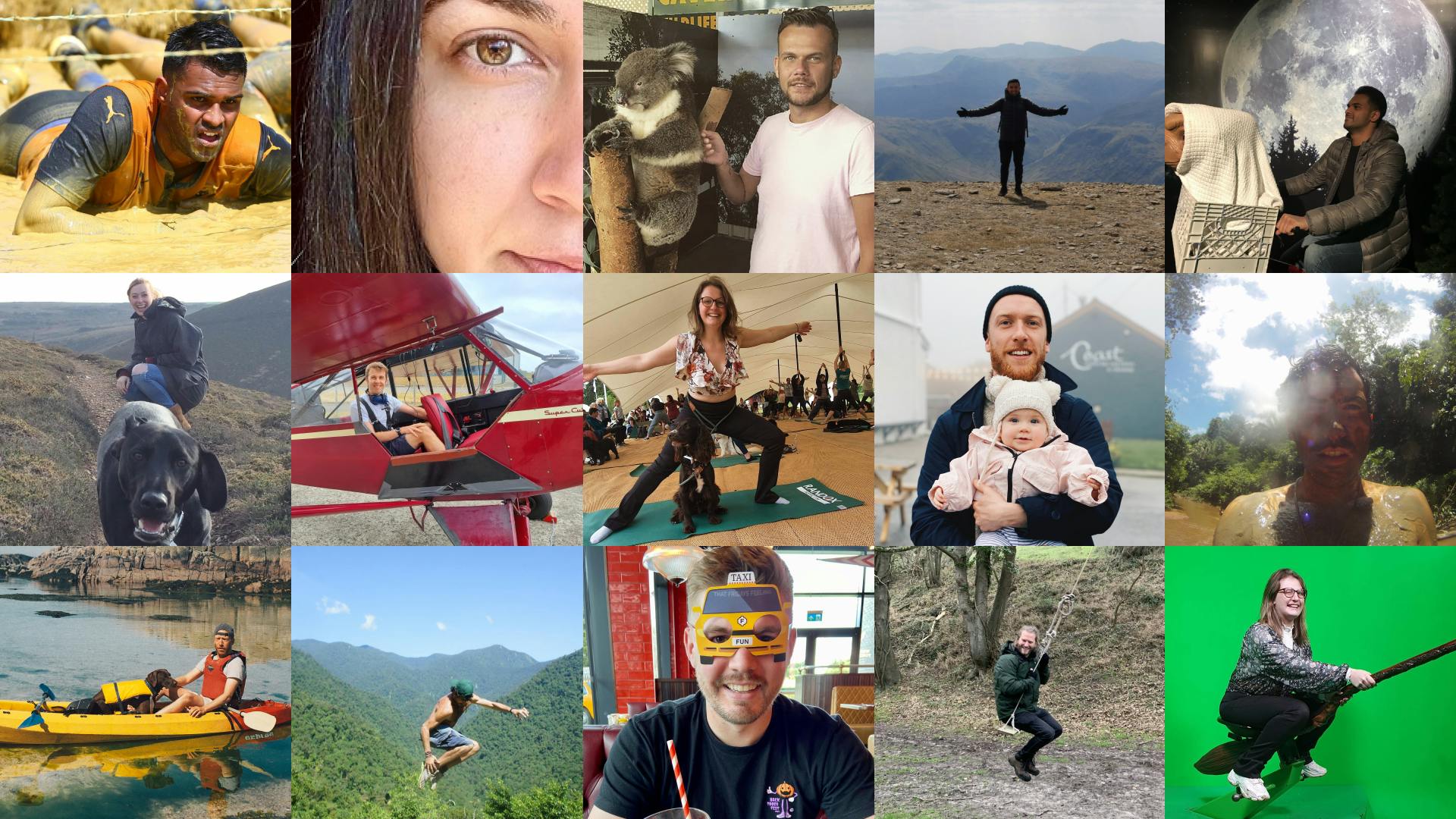 And finally, if you want to track our story and get a sneak peek of what we're building next, check out our public roadmap.