Cuckoo for results

Sarah Ahern
Head of Strategy & Ops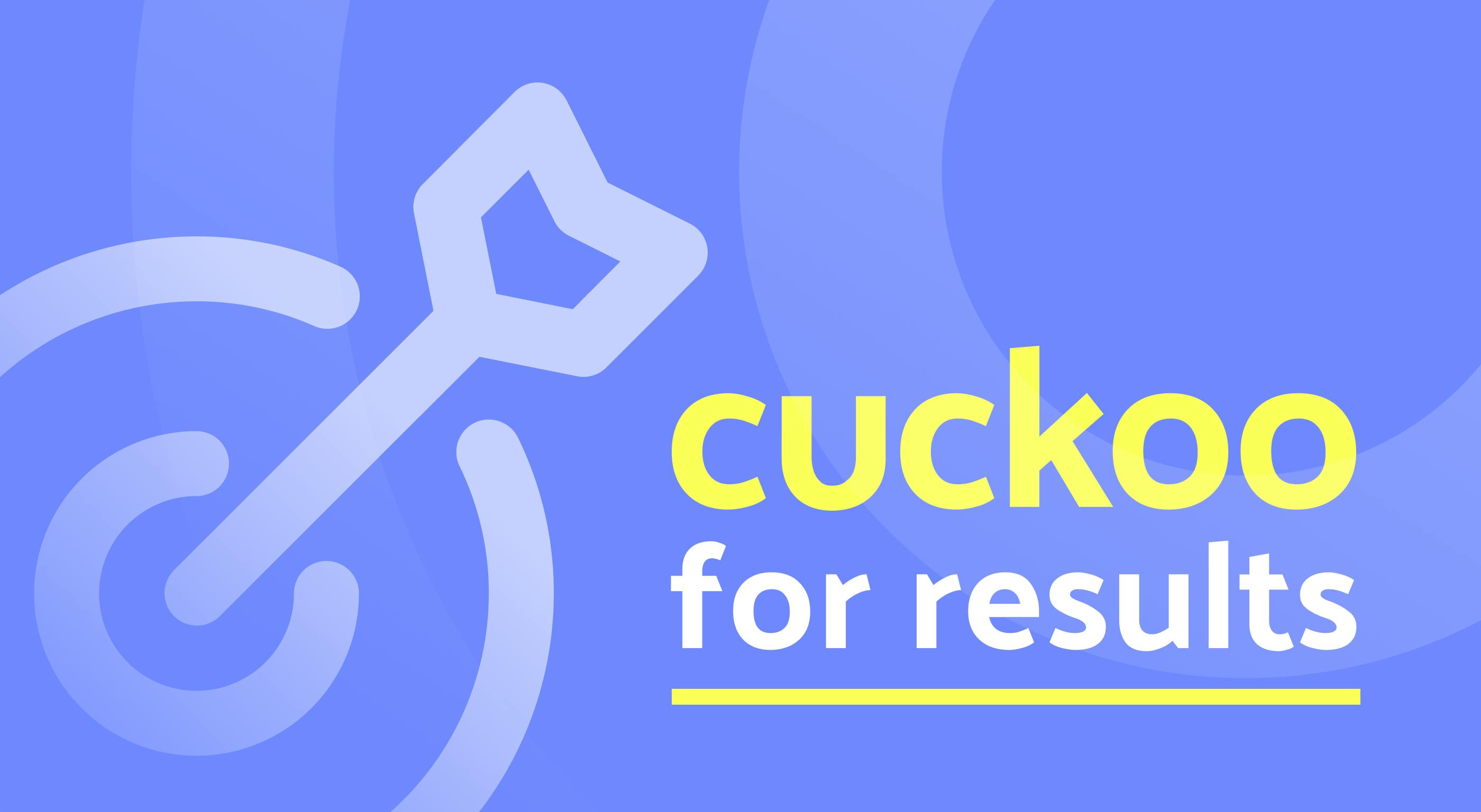 This is a blog post about our business and how we use disciplined execution to translate our vision and strategy into awesome results. If you're a Cuckoo team member, just about to join us or generally interested in startups, this is the content for you.
When I joined Cuckoo six months ago, I was joining a talented and hardworking team that had already done what many would think impossible - launched a telecoms company in a few months. The team was uncovering customer problems and shipping solutions fast. There was also a long list of opportunities for the business to potentially go after, ranging from internal tooling to improve team efficiency and job satisfaction, to new products to launch and potential new markets to enter.
The central questions for me as the new Head of Strategy & Operations were:
What should the business be focusing on in any given week or month?
What projects or initiatives should we say no to for now?
This blog lays out how we at Cuckoo answer that question as a team by using the OKR framework to set goals to guide how we collectively and individually prioritise our time.

Strategy may be an art, but execution is a discipline.
There's always more you could do than you should do, and developing a strategy boils down to making choices about what you will do - and what you won't - do.
Executing on your chosen strategy is a question of staying committed to your choices, maintaining focus as a team, and keeping a constant eye on the outcomes of your choices.
Much has been written about strategy, and its tenets and theories are taught in business school and executive leadership courses everywhere, from Michael Porter's treatise on competitive advantage, to more recent airport reads such as Good Strategy, Bad Strategy.
But what about execution? Lean and agile methodologies offer principles and practises to help product and technical teams increase the speed and frequency with which they ship software in order to improve outcomes for customers and minimise wasted effort in the development process.
The product and tech team at Cuckoo has been agile from its inception meaning we consistently bring solutions to market at lightning speed compared to our competitors. However, we didn't always have specific, shared, time-bound and measurable goals that were accessible and transparent to the whole company. In other words, though teams and individuals were delivering great work, but as the team and business grew, getting everyone in the room to discuss what to double down on and what to drop became more challenging. We also didn't have a shared view of what success looked like.
So we decided to introduce OKRs could help us drive more focus, greater alignment and better results.

Objectives and Key Results (OKRs) is a goal-setting framework first developed at Intel, popularised by Google, and used by some of the world's most successful product-led organisations, including Amazon, Dropbox, GoCardless, Slack and Spotify (to name just a few).
Much has been written, said and debated with regards to OKRs, and so I won't attempt to rehash it all here. Instead, I would like to share why we chose OKRs over alternative execution frameworks, the difference having OKRs has made, and just a few things I wish we had known when we first started using the framework earlier this year.
Firstly, why OKRs and not another goal-setting framework?
There are rival frameworks that could work just as well or better for your team as OKRs (e.g. Rockefeller Habits or 4DX). The most important things is to identify one that appeals to you and start using it. The main reason we chose to work with OKRs at Cuckoo is that they are so widely used and understood. This means that with a quick google, we can lookup advice on any aspect of the process and find example OKRs for every situation and team, ranging from product to people. Choosing to work with OKRs at Cuckoo has allowed us to learn from the trial and error of others and avoid (at least some of) the common pitfalls.
Second, what's been the impact of implementing OKRs?
Since introducing OKRs, we have become super clear as a business on what our shared goals and priorities are in the short term. And because those goals are specific and quantitative - we always know where we stand versus where we want to be. As each team's OKRs are published and results updated in Notion every week, everyone can see what everyone else is working on and what % of our targets have been achieved so far. As a result, everyone from our tech team to our Broadband Eggsperts know that they are pulling in the same direction.
Finally, what did we learn the hard way when implementing OKRs?

Though introducing OKRs has been a net positive for our business, we have made a few mistakes along the way. Below are a few of the things we had to learn the hard way.
Cascade your company OKR into team OKRs: There are different schools of thought on whether OKRs are best 'loosely aligned' between teams or cascaded top down. For our business and stage, we've found that cascading goals helps us achieve focus and stay aligned.

Don't try to do too much: The old adage that 'if you have more than three priorities, you have none' holds true. One or maximum two company objectives cascaded into one or two OKRs per team is preferable to a broad swathe of goals covering every aspect of your business. Remember, resource constraints are you friends. They help you to crystalise trade-offs and focus on the 20% of your opportunity space that will drive 80% of your results. When choosing your top one or two top objectives, ask yourself what is the one thing we must do that is not likely to get done unless we commit to it now? This is your objective.

Don't make your targets too easy or too hard: Selecting the right key results is probably the hardest part. There will be always be some trial and error with this, but when putting numbers to your key results - you might want to ask yourself which would be worse: Setting too high a target and only achieving 50% of it or setting too low a target and overachieving it?

Don't fear being 'too focused': Focusing on a single goal can be a scary thing, as it inevitably means something else has to give. This is OK, as long as you have taken a conscious decision to accept the trade-off, and you are clear on how much you are willing to let that something else 'give' before you need to address it. If you define metrics to monitor in addition to your key results and set floors/ceilings for those metrics, you will know when something needs you to switch your focus briefly to deploy a fix.

Commit to and make the most of weekly check-ins with your team: Weekly check-ins with a well-structured agenda keep the team engaged and talking about the numbers (the past) and their confidence in achieving each key result (the future). If it feels like there's nothing to talk about a particular week or engagements feel sluggish, we found that it's best to use the time to explore why that is rather than give in to the temptation to skip the check-in.

Don't ignore everything else: There will always still be BAU work and important and urgent things that crop up that fall outside of the OKRs you defined. Defining and monitoring a set of health metrics can help you keep an eye on the areas of your business that fall outside of your current OKRs but are still vital to protect.

Don't underestimate the importance of buy-in from the team: success with OKRs hinges on getting buy-in from everyone in the organisation both for the process as a whole and for the relevant OKRs themselves. Achieving buy-in can take time, so factor this in when setting our your planning dates and deadlines.*

Recognise and celebrate successes along the way: Our OKRs are stretch goals rather than committed goals or a 'budget'. Challenging stretch goals can sometimes frustrate a team who is motivated by success and used to achieving everything they set out to do. If your OKRs are stretch goals, don't forget to communicate the scale on which you measure success. When you think about it, 70% or more of an ambitious stretch goal is actually amazing! Don't forget to make room to celebrate what you have achieved - and learnt - even if you didn't hit all of your key results.
Want to learn more about what makes Cuckoo tick? Take a look at our CEO Alex's blogs on our company values and how our team is organised.
*In our experience, the process of creating buy-in includes
Making sure everyone has access to the same information about business context, incl. key company performance data and customer feedback and insights
Clarity from the top: Senior leadership aligning, committing and speaking as one about the main priorities for the business, as well as the reason for introducing OKRs
Creating space for debate and discussion
Agreeing an overall timeline by when you will reach a decision and agreeing to 'disagree and commit' (to steal a phrase from Bezos).