How do I set up my router?
Kit you should have
Router (the big black box)
Power supply (black plug, adapter and wire)
Cuckoo booklet or Quick Setup Guide
Broadband cable (grey ends)
Ethernet cable (yellow ends)
Filter (grey)
Instructions
Fibre (FTTC)
Plug the grey broadband/telephone cable into the grey port on the back of your router
Find your telephone socket ideally your master socket for the best connection. The master phone socket is the main socket where the phone line enters your home, usually found in the hallway near the front door or near a window
See whether the socket has one port or two or more ports
If your wall socket only has one port, then pop the other end of the cable into your micro filter, and plug that into your phone's wall socket

If your wall socket has two or more holes, plug the main grey cable directly into the broadband (square) port of your socket. You don't need the micro filter. Make sure you don't plug it into the phone hole by accident!

Full Fibre (FTTP)
Plug the white ethernet cable with the yellow ends into the red WAN port on the back of the router
Plug the other end of the ethernet cable into 'Port 1' on the ONT (Optical Network Termination).
Your ONT may look like any of the models below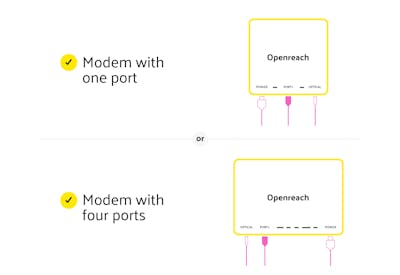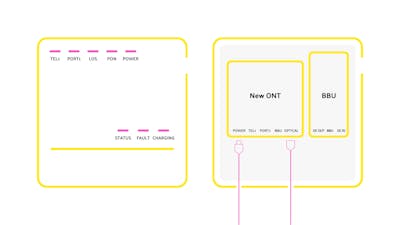 You will not need the microfilter or the grey broadband cable for Full Fibre
Position your router correctly:
- Upright
- Facing towards you
- In the middle of your home
- Unobstructed by walls or furniture (especially not in a cupboard)
- Not on the floor
- Away from electrical devices like cordless phones and microwaves - these can interfere with your signal
Turn your router on and wait a couple of minutes for two green lights
When one of them starts to flash, you're ready to connect
Use your Wi-Fi name and password to connect to the router – you'll find them in the welcome email we sent you. You can also view these at any time by logging into My Cuckoo and clicking on Account overview
Pat yourself on the back, have a cup of tea, and surf the web to your heart's content
Sometimes connection speeds are lower than normal during the first few weeks. So don't worry if that's the case. If the issues persist, take a look at our broadband help pages and the Cuckoo community forum.
Did this article solve your problem?